Flooring Expo by Carpet King is also the Minneapolis – St. Paul area's go-to source for stone and ceramic tile flooring!
Refined and durable, ceramic tile is strong while maintaining a warm & welcoming look. Available in looks that range from natural stone to clay, marble and even petrified wood!
Flooring by Carpet King Offers:
Competitive pricing on tile flooring
A broad selection of available products and styles
Free, in-home estimates & on-the-spot all-inclusive price quotes
Interest-free financing
Samples, brought directly to your door
Professional quality, next-day installation services
Superior work quality & customer service
Tile Basics
We've got everything you need to know about tile floors, all in one place! Every tile is unique – no two
pieces of stone are ever exactly the same, making them individual works of art with totally unique
patterns of color and mineral veining.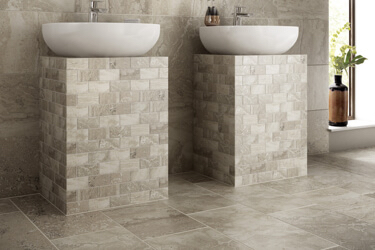 Ceramic tile
Made from a mixture of different clays and other natural materials, fired in a kiln at extremely high temperatures until hard. They are then either left in their natural white or red unglazed state, or glazed with a colored top layer.
Porcelain tile
A type of ceramic tile, but much more dense due to being fired at even higher temperatures. Porcelain is harder, more resistant to moisture and staining, and has color that runs throughout the body of the entire tile. Both types naturally resist dents and scratches, and are available in an endless variety of glaze colors, shapes and sizes.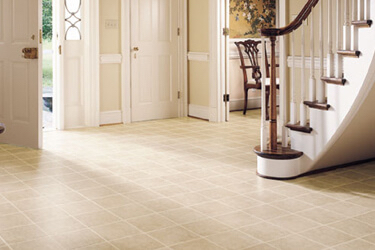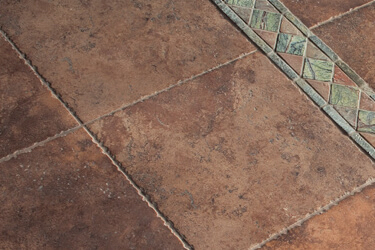 Natural stone tile
Another decorative option, available in designs made from real slate, marble, limestone, granite and travertine stone. Much like with ceramics, different stones each have a unique look, with lots of variation between individual tiles.
Tile Care
Because of tile's incredible hardness, you'll get many years of durable beauty out of your tile floors.
Cleaning tile can be simple, but you need to know how to do it properly. Follow these tips to keep
your tile well-maintained: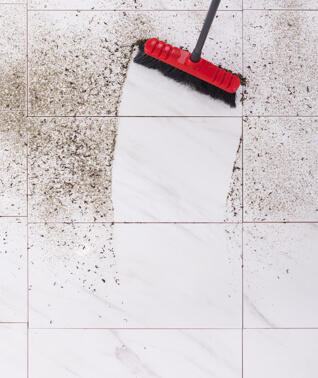 Sweep, dust or vacuum with a soft attachment routinely to keep your floors free of dirt and grit that dull their surface.
Each week use a damp mop or a steam cleaner– be sure that your cleaner is manufacturer approved for both your tile and grout!
You'll need to reseal your floors every once in a while to protect the surface.
Spilled foods and drinks should be mopped up immediately to avoid stains.
Do not place extremely hot or extremely cold items on your tile floors, as these can crack the natural stone.
The following are some of the questions we hear most often about tile floors, along with our expert answers.
My grout is cracked – will that cause damage to my tile?
It can – cracked grout can mean that moisture and dirt will easily penetrate the spaces between tile and mortar. This will gradually wear away your grout, resulting in loose tiles.
Why should tile floors be sealed, and how do I do it?
Sealed tile is far more resistant to stains, so you should periodically reseal it post-installation.
Use a high-quality, manufacturer-recommended sealant, preferably with a natural-looking finish.
What's the difference between glazed and unglazed tile?
Glaze is simply a liquid glass coating that gets baked into the surface of each tile during the firing process. Glaze offers a practically unlimited variety of options for color and design, and offers other benefits like added stain resistance. Unglazed tile retains its natural look, and comes in a limited array of colors than includes earth tones like white and red.
How do I install natural tile or ceramic tile?
Tile installation can be an intensive process, and it requires a lot of technical skill. For that reason, we recommend professional installation. Ensure that your installer mixes different tiles from different boxes in order to achieve even visual variety.