If you are reading this article, then you are most likely thinking about or in the process of replacing your carpets.
Let us be the first to congratulate you! Renovations are a great way to add value to your home and give you a living space for you and your family to enjoy for years to come. And whether it is just a carpet replacement you're looking for or an entire home makeover, you are going to want your new floors to look great in your space and last for many years.
While you are in the market for new carpets, have you given any thought to the carpet padding that will have to be replaced with it?
If you've never thought about your carpet pad, you're probably not alone. Most people never give it a second thought. But though you may not spend much of your day thinking about carpet padding, perhaps now is the moment that you really should.
Since it has to be replaced anyway, is it in your best interest to upgrade your carpet padding along with your new carpet? Does thicker padding make a difference?
Yes, it does. 
You can pick the first padding you see or the one that comes with your new carpet, but here is why you really should stop and take a moment to choose the best carpet pad.
What is Carpet Padding?
Carpet padding is the material installed underneath your carpet and can completely change how your carpet functions.
It can be made out of a variety of different materials and serves to benefit your flooring in many ways. A good carpet pad will protect your carpet, reduce noise and echoes in your home, provide insulation during cold winter months, and add some extra comfort under your feet as you walk.
Most carpets have padding underneath. You've probably seen carpet padding if you've ever laid down or torn up any carpet. It is the spongy, often multi-colored material that goes underneath your carpet and separates it (and your feet) from the subfloor.
Carpet padding is installed the same way your carpet is and will be the second step of the carpet installation process, right after laying down the tack strips. Your padding will lay directly on your subfloor and cover the entire surface that you plan to carpet. Once your padding is cut to your floor specifications, it will be fastened to the edge of the tack strips that run along the wall to hold your carpet and pad in place.
Once carpet padding is down, the last step is to install the carpet over it and complete your transformation.
Benefits of Carpet Padding
 Laying down padding underneath your carpet isn't necessary for carpet installation, but the vast majority of people choose to do so due to its many, many benefits.
For something we don't normally think about on a daily basis, your carpet padding is doing a great deal of heavy lifting in your home, such as:
Protecting Your Carpet:  A good carpet pad can keep your carpet looking great by absorbing shock and reducing matting, buckling, and crushing in those high-traffic areas of your home or office.
Adding Comfort: It also gives your carpet a comfy, luxurious feel that you can relish in while walking barefoot in your home. A nice carpet pad will give you and your household floors that are comfortable not only to walk on but to sit and lie on as well.
Adding Insulation: Concrete gets cold and having a thick layer of carpet pad between you and your subfloor can keep your feet and your house warmer during the winter. Even in the coldest weather, the padding keeps your floors insulated and comfy to walk on.
Reducing Noise: That same padding that feels so cushy under your feet also has the double benefit of muffling noise and reducing echo. Take phone calls or watch TV without the pitter-patter of little feet and scrabbling paws distracting you.
Making Cleaning Easier: Believe it or not, carpet padding makes cleaning and vacuuming easier. Adding a layer between the carpet and the subfloor allows more air to circulate between them, letting your vacuum cleaner more efficiently suck up dust and dirt and keep your carpet looking fresh.
Lengthening the Life of Your Carpet: Having a carpet pad to protect your carpet and make regular cleaning easier and more efficient ultimately adds up to significantly lengthen the life of your carpets. All of that can help to add long years between carpet replacements and save you time and money in the long run.
Carpet Pad Materials
 Carpet padding can come in a variety of materials, such as rebond, rubber, foam, fiber, or any combination of the above, all shredded up and pressed together to form a soft, spongy material.
While you can often choose the material you'd like based on personal preference, there are some things about your home that you will have to take into consideration before you make your final selection.
Type of Carpet: You'll know if there are pad limitations when you select your new carpet. Some carpets, like Berber, do require a certain type of padding, and using the wrong type will void your carpet manufacturer's warranty. Check the store you are purchasing from to make sure the padding material and thickness that you choose are compatible with your new carpets. Otherwise, you could risk damaging your carpet or popping it off of the tack strips.
Traffic: You'll also have to consider the amount of traffic there will be in the section of your home where the new carpet will be laid. Putting down a thick carpet pad in a high-traffic area will put you at risk of flattening out your carpet pad and possibly damaging and buckling your carpet. Generally, a high-traffic hallway or staircase will require a thinner and less dense carpet pad.
Moisture Guard: Moisture Barrier Carpet Padding is a pad that is sealed with a water barrier on top to prevent moisture from making its way down into the padding and your subfloor. If you are carpeting a basement, own pets, live in a very high-humidity area, or have small drink-spilling children, then you should consider adding a moisture guard to your carpet pad to prevent damage to your concrete subfloor.
Insulation: The R-value of your carpet and padding is the thermal resistance rating it has and will determine how well it insulates your floors. The higher the R-value, the higher the density of the padding, and the better job it will do at trapping heat and keeping your room warmer.
If you live in a very cold climate, you'll want to select a carpet pad that will help insulate your house and keep down your energy bills. Conversely, if you live in a hot climate, a pad with a lower R-value will help keep your house cooler and also serve to save you money on your cooling costs.
Consider the above needs and what use your new carpet will have in your home. Your carpet retailer or installer will be able to help guide you toward what type of padding material would best suit your carpets' and your home's needs.
Carpet Pad Densities
As mentioned before, carpet padding is not a one-size-fits-all type of buy. You've probably walked on floors that had very thin carpets, such as the office you work in, or a department store or restaurant. While it functions just fine for where it is, a commercial carpet would not be the floor you'd want to walk on in your own home.
While the type of carpet you buy will definitely make a difference in the softness of your floors, it's the density and thickness of your carpet pad that will ultimately decide how soft and cushy your carpets will feel under your feet.
Carpet pads come in three thickness sizes: 1/4" for a low-profile cushion, 3/8" for a medium profile, and 1/2" for a high profile. The thicker the carpet pad, the softer it will feel.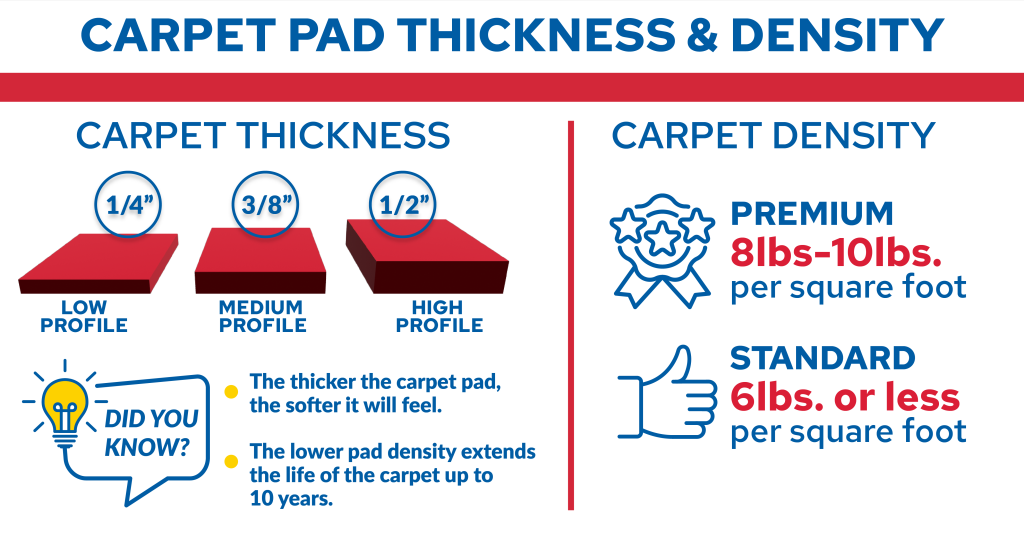 But while the thickness of your carpet padding is important, it's really the density that will matter most in the end.
The higher the density of your carpet pad, the more material it contains. This will give it more pounds per square foot and a cushier feel under your feet.
A carpet pad in a residential home will usually have 8 lbs. of density or more per square foot, with some having 10lbs. for a very luxurious and long-lasting carpet.
A Carpet Pad for All Your Needs
 Now that you know more about the benefits, material, and density of your carpet padding, the padding you select will come down to your needs and your carpet. Here are some good options for things you might be looking for in your new flooring:
Noise Reduction: Full house? The denser and thicker your carpet and pad are, the more noise they will muffle. Consider a carpet pad made out of dense memory foam for a quieter and more peaceful home.
Pets: Pets are like furry little children. They spill drinks, they have accidents, and they track in mud and dirt. But having a dog or cat doesn't have to mean that a carpeted floor is off-limits. Consider a carpet pad equipped with a moisture barrier to prevent any spills or accidents from soaking through and damaging your subfloor.
And typically, if your carpet pad is water-resistant, it will be stain-resistant as well, which is also a definite plus with your furry friends in the house.
Radiant Floor Heat: If you live in a very cold climate (or are just very cold-sensitive) then you might be interested in radiant floor heat. A radiant floor heating system uses thermal radiation and electromagnetic waves to heat your floors directly, which has the double benefit of added warmth underneath your feet as well as helping to warm up the entire space — the perfect touch for a cozier bedroom.
And if you're constantly running your heater to stay warm, a radiant floor heating system might end up paying for itself by warming your room and making you less dependent on your thermostat.
If this is something you're interested in, then now is the time. A carpet pad made of rubber, felt, or any combination of the two is best suited for a radiant heating system.
High-Traffic Areas: Every carpeted home has it: an area of the house where years of high traffic have worn down the carpet, leaving a trail of wrinkled and flattened flooring.
To keep your high-traffic areas looking great as long as possible, consider a rebonded foam carpet pad with lower thickness and density. Thick carpet padding will eventually wear down and flatten out in very high traffic, leaving extra space between it and the carpet that will eventually lead to a trail of wrinkled, buckled, and unattractive floors.
Installing a thinner carpet pad made of urethane foam in these areas will prevent this, keeping your carpet looking beautiful, year after year.
Is It Worth It?
So, does carpet padding make a difference?
For something you have previously not spent much time thinking about, it turns out your carpet padding does play a crucial role in both the lifespan of your carpets and in many other aspects of your home.
If you're considering replacing your carpets, then it is definitely worth upgrading your carpet pad as well. Upgrading your padding will ensure that your new carpets will last longer, look beautiful, and be a joy to walk on for years to come.
Still not sure? Why not schedule an appointment with Flooring Expo by Carpet King today?
We have carpet installation experts on staff who will take all of your considerations in need and guide you toward the right carpet and carpet padding for your home and your lifestyle.
And not only can Flooring Expo install your new carpets for you, but we'll warrant your installation for life!
Ready to put some joy underneath your feet? Let's connect today and put you on the path to a more comfortable and luxurious home.